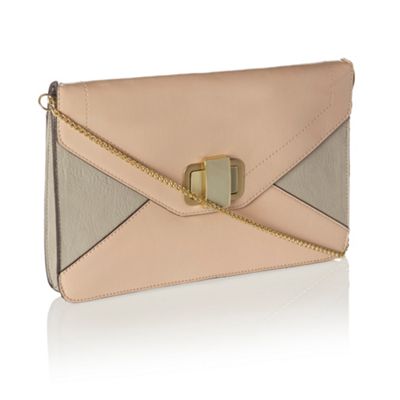 Bag – Jasper Conran
I posted this outfit a while ago, but I really don't think I paid enough attention to this gorgeous Jasper Conran evening bag! I was looking at it earlier and it really is stunning, and considering how long I spent eyeing it up in the shops before I actually bought it, I felt it deserved a post of it's own!
I have always loved Jasper Conran for bags and spend hours looking at them online or in Debenhams, where there is a lovely section full of them! Unfortunately they are way too expensive for me, so I just have the one black Tote bag (bought several years ago in the Debenhams sale) and then of course this beauty – also bought in the Debenhams sale this summer!
There is something effortlessly stylish about Jasper Conran bags and I love them to bits, especially this pretty one, pink and grey and gold are perfect colours for this summery bag – even though it's Autumn now, I'd still happily take this out and about with me in the evening to liven up a dark outfit. It's actually surprisingly capacious inside – I did wonder how on earth I'd actually get all my bits in it, but there is more space than you'd think in there! I love how it works as both a shoulder bag and clutch, all you have to do is tuck the gold chain inside and you've got a clutch. They did have a black and white version of this bag going for a while, only I can't seem to find it anywhere now…slightly peeved I didn't get my hands on it. But what can you do!